Items that serve as visual appeal can add some sparkle to the exterior appearance of a home. In reality, many homeowners place great importance on details with regard to the facade of their home, including its elements, maintenance and landscaping.
If you use to be lucky enough to have a front lot or a backyard with lots of space, you are probably thinking of incorporating different elements into it.
Have you ever thought about the beauty of a rock garden and use river rock for yard landscaping? This eclectic installation requires little maintenance and is a great option for any home, regardless of your preferences and style.
The positive aspects of a rock garden
Rocks have a reputation for being boring, inanimate, and unable to add color or exciting appeal to landscaping.
Nothing could be further from the truth. In reality, a rock garden can have a much greater impact when it comes to creating visual contrast on a piece of land, by dividing and emphasizing other natural elements like flower beds, plants and the trees.
The rocks create a rhythm and a structural dimension that flowers and greenery simply do not have.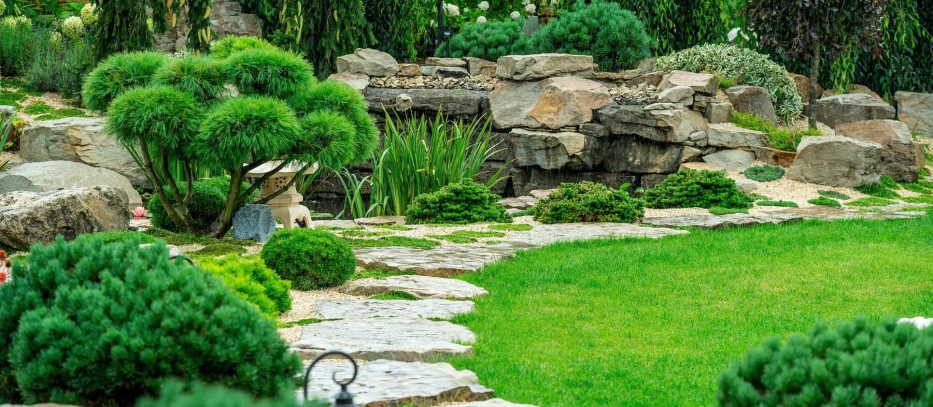 The steps to create a rock garden
Equip yourself
No matter the size of the rock garden you plan to build, here is what you will need to complete this project:
A trowel;
A wheelbarrow;
A shovel;
Pebbles, soil and plants of your choice.
Choose a site and the elements of your garden
It is important to choose the location of your rock garden carefully. Landscape with river rock is certainly an element of your landscaping that you will not want to move after having put it in place.
As this is a permanent installation, think about the place that will be best suited for it.
Choose your rocks
The source of your rocks will depend on several factors. Among these factors, you will have to think about where you live and what types of rocks you want to work with.
Since it is difficult to design a rock garden before you have seen the rocks themselves, from the preliminary stages of this project, we suggest that you think about what you want to include in them.
Choose plants
You might not want to work with plants at all, this may be why you decided to build a rock garden in the first place. However, accessorizing with greenery and plants will offer another visual appeal that could help further beautify your land.
Some options are here you may want to consider:
Wood hyacinth
Periwinkle
The bleeding heart
The prickly pear cactus
The creeping phlox
The sedums
The Arabette
Geraniums
Build your garden
Before laying a single stone for the landscape ideas with river rock, make a plan and choose the area inside which you will work.
Remove all weeds and debris. If you are working with one or more large stones, you will want to dig a depression in the ground to install these.
For stability purposes, experts recommend burying a third of the rocks. Dig and position large stones at the start, fill everything with soil to keep them in place.
Subsequently, you can start placing smaller rocks and the other plants you want to include.